Welcome to TRAKMARK
Trakmark products are now in their 5th generation. Lighter, more durable, increased stain resistance, no acrylic fillers and improved non-slip surface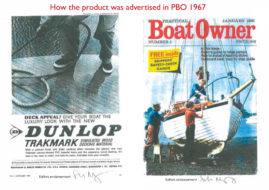 Trakmark was first manufactured in 1965 by DUNLOP, as the first and original PVC Decking. The PVC extrusions look the same as teak decking but at a fraction of the cost.
Trakmark decking can be fitted to almost any surface, timber, GRP and steel.
This U.K. manufactured product is maintaining its British Heritage as a world beating product, designed to be fitted by the professional and D.I.Y enthusiast.
P.V.C. extusions have been used for more than 50 years for surface coverings principally for their non-slip properties. In that time the engineering of extruded product has changed very little. Its outstanding Non Slip properties have proved to be perfect in all locations, being used by the Military, both the Army and the Navy.
PVC decking, sometimes called synthetic decking, or plastic decking, is perfect for the marine trade including boat builders and fabricators. It is often used for plastic boat decking, plastic ship decking and plastic yacht decking.
Trakmark has been manufactured so it can be supplied to a wide range of commercial and domestic areas, from Fishing boats and Cruise ships to Ribs and Yachts, Sun decks on river and canal boats to Balconies, Gyms and Wet rooms.
The latest Trakmark Decks are
Stain Resistant
Practically Maintenance Free.
Has Non – Slip Properties.
Fully UV stable.
Looks and Feels like Teak.
Five colour tones to match new and old decks.
Three caulking colours.

For fabrication and custom made panels please contact Tek-Dek at www.tek-dek.com
This alternative to wooden decking can be used on a wide range of materials, Including Timber, Metal and Fiberglass. With its Non Slip feature continues even when the deck is wet with sea water.
The Striking Image of the decking with its colour fast UV stable colours, that stay with you for years. No sanding or varnishing, just wash it down with propriety products.
A hydrocarbon spot remover combined with a high quality citrus wipe can be used for those stubborn marks.
All the Trakmark products come in two widths 50 & 80mm, and margins of 50, 80 & 126mm. And  with a selection of five colours: